Welcome to Sankt Ignatios Folkhögskola
Changing Perceptions

Fostering Community

Stimulating Dialogue
At Sankt Ignatios, the kind of education you choose depends on your needs and ambitions. The allmän kurs (general education) is offered to those who need to complete the foundational education that young people in Sweden usually complete by the age of 19. Our college courses and programs are offered to those who want to study the Orthodox tradition  or train for leadership and pastoral roles in the Church. The Department of Eastern Christian Studies, which is part of EHS in Bromma, offers bachelor's, master's and doctoral programs in Eastern Christian studies. We also offer programs for those who wish to serve in the Church as priests, deacons, cantors or educators. These programs combine folkhögskola and university education.
Click on a picture below to find out more.
The application period for the school year 2023-2024 is now open. It is now possible for citizens of the EU and EAA countries to apply for courses and programs at Sankt Ignatios Folkhögskola (allmän kurs) and College. You fill find information about the different programs and courses below.
Sankt Ignatios is a unique institution in that it encompasses broad expertise in several Orthodox traditions, which is reflected in the composition of its staff, students, course offerings, research areas and collaborative endeavours. There are few, if any, other institutions in the world where staff and students from the Tewahedo-, Coptic, Syriac, and Byzantine Church traditions work, study and conduct research together. Sankt Ignatios' collaborative environment is flourishing both locally at the campus in Södertälje, Sweden, but also internationally, as a platform for international collaboration and networking. Sankt Ignatios is uniquely situated to facilitate new connections between Orthodox institutions around the globe.
Before the Covid-19 pandemic, Sankt Ignatios initiated discussions with the Greek Orthodox Partriarchate of Alexandria with a view to establish a collaborative project to promote the further development of theological education on the African continent.
Read More »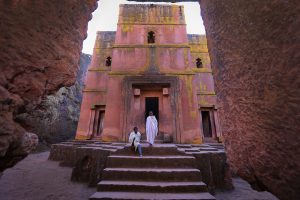 As part of the ongoing collaboration for the preservation of the vulnerable cultural heritage of the Ethiopian Church (in particular the endangered medieval churches in the Lasta region, around Lalibela), a delegation of the Ethiopian Orthodox church visited Sweden in late August and early September
Read More »
Working in solidarity with Ukraine
Sankt Ignatios has been actively involved in following and analyzing the ecclesiastic and social developments in Ukraine since the Maidan uprising of 2013. Since 2017 Sankt Ignatios has been exploring the potential role of Folkbildning (Scandinavian Liberal Adult Education model) in relation to the Orthodox churches in Ukraine as vehicle for promoting the development of democratic civil institutions.
From the outset of the invasion of Ukraine in February 2022, Sankt Ignatios was poised to partner with local organizations, churches and state entities to provide support for people displaced by the war. With its experience of working with Ukraine, as well as the linguistic and cultural expertise of its staff, Sankt Ignatios has been able to play a meaningful role in connecting grass roots initiatives with funding from various organizations. Sankt Ignatios has been able to provide administrative infrastructure to coordinate and organize initiatives, as well as designing flexible learning and instruction to meet the needs of newly arrived people seeking to orient themselves in Swedish society. Below are some of our current collaborative projects.
Sankt Ignatios and House of Ukraine are working as partners helping to educate displaced Ukrainian children.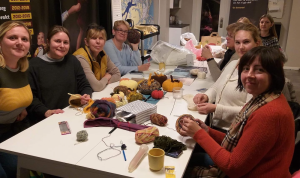 Heliga Anna of Novgorod's Orthodox parish in Stockholm partnered with Sankt Ignatios to apply for funding from Länsstyrelsen Stockholm (TIA project funds) to provide cultural and artistic activities for Ukrainian refugees residing in the Stockholm region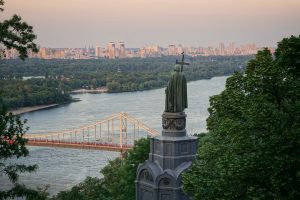 Sankt Ignatios intends to establish an affiliated Folkhögskola in Ukraine, beginning by finding local partners currently on the ground.