I am proud of all that we do and offer but more than anything I am proud of the rich diversity of our students and staff, something unparalleled in Scandanavia. Thank you for coming to visit us online. I do hope you will join us!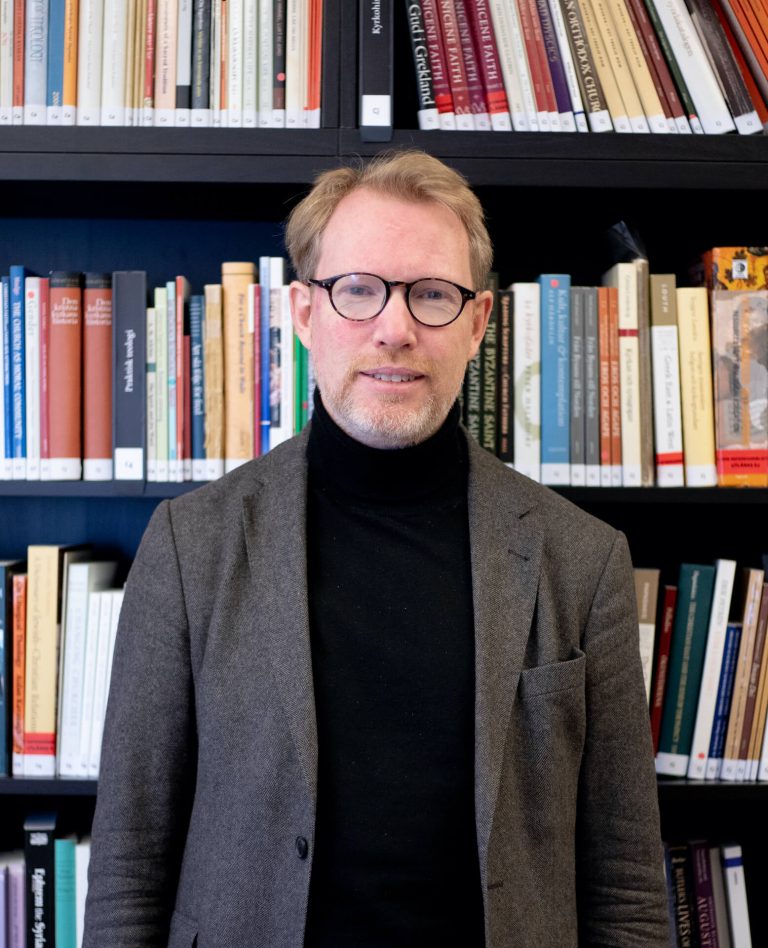 As the dean it is a great joy and privilege to welcome you to Sankt Ignatios. Whatever your Church background, your previous educational experience, your cultural identity or country of origin you are welcome. Here, we value each member of our college family for their unique experience and gifts and in our Orthodox educational family, professors and students, pupils and teachers learn together.
We believe that education not only equips people with knowledge and skills but fundamentally transforms them so that they can engage more fully with their Churches and with their world.
Through our language and numeracy courses at our General Education program we set people free to play their full role as citizens of Sweden. Through our pastoral programs we equip men and women for service in the Church, both as loyal and informed servants and as critical and imaginative innovators. Through our master's programs we offer bright and talented people the time and space to think deeply about the nature of the Church and the relation between Church and world so that they can take up leadership roles in the future. Through our doctoral programs we train the next generation of Orthodox scholars.
Dr. Michael Hjälm, Dean of Sankt Ignatios
• To provide men and women with the educational resources necessary to live a fulfilled and successful life in Sweden and to contribute as citizens to the health and welfare of the community.
• To educate a new generation of leaders equipped to serve the Church in their own culture and society. We encourage our students to view Orthodoxy as a living, growing, tradition which speaks to the needs not just of individuals but of our communities and society.
• To contribute to a renewed understanding of the Orthodox tradition among Orthodox people. Through our educational work and our contacts with Orthodox Churches we have become a major resource for Churches seeking to renew the devotion and commitment of their congregations in an increasingly diverse and secularised Europe.
• To build a foundation for inter-Orthodox cooperation. At Sankt Ignatios we work closely together with other Orthodox Churches. We currently have four seminaries, the Byzantine, the Coptic, the Syriac and the Tewahedo. We have excellent relations with all the Churches and through their participation in the work of the Foundation, relations between these Churches have become stronger.
Established
Sankt Ignatios Foundation was established in 2012. The Foundation set up the Sankt Ignatios Folkhögskola.
Dean
Dr Michael Hjälm
Motto
"Religion, Peace and Democracy through Education and Learning"
Educational cycles
Folkhögskola level; Stockhom School of Theology: First (BTh), second (MTh) and third (PhD).
Church affiliation
Orthodox (Coptic; Greek and Slavic; Syriac; Tewahedo)
Annual Report (Swedish)
Seminaries
5 – Byzantine; Coptic; Syriac; Eritrean Tewahedo; Ethiopian Tewahedo
Students at Sankt Ignatios Folkhögskola: 418
Members of staff: 38
Location
Södertälje and Bromma (Stockholm), Sweden
Start dates for autumn term
Allmän kurs: August 18th, 2022
Sankt Ignatios College,
Sankt Ignatios Folkhögskola: August 18th, 2022
Sankt Ignatios College,
Stockholm School of Theology: August 22, 2022
Website address
www.sanktignatios.org
Email contact
info@sanktignatios.org
Swedish State's
Support for Public Education
Sankt Ignatios follows the Swedish state's understanding of the purpose of a Folkhögskola.  
Swedish society supports public education because it contributes to the continuing development of democracy. The aim and purpose of this support has been specified by the Swedish parliament.
The state's objective in supporting folkhögskolor and educational associations is to:
1. support activities that contribute to the strengthening and developing of democracy;
2. enable as many people as possible to influence their life situation and participate in the development of their communities
3. close educational gaps and raise the quality of education and training in society;
4. widen interest for and increase participation in cultural life.
The conditions for the state subsidy for public education are specified in the Government's regulations on state subsidies to public education.
Source: https://www.folkbildningsradet.se/om-folkbildningsradet/statsbidrag-till-folkbildningen/Statens-syften-med-att-stodja-folkbildningen/ (2020-04-02)