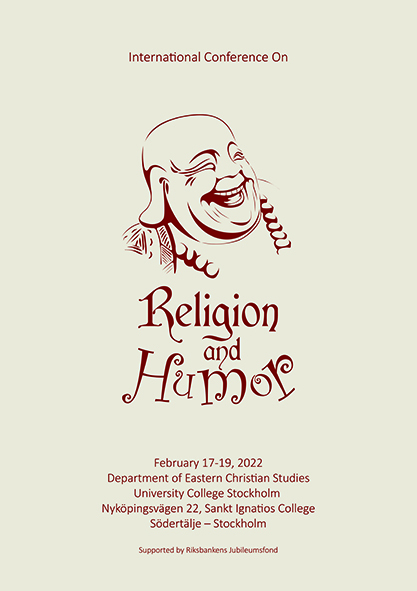 The international conference "Religion and Humor" focused on the role of humor in different religious traditions, as revealed through their sacred texts and spiritual practices. Scholars from various academic backgrounds and different religious traditions explored new avenues for thinking about how religion and humor could be understood in the context of both traditional and contemporary societies.
The conference was organized by Department of Eastern Christian Studies (Sankt Ignatios College), University College Stockholm and took place from February 17-19 at Sankt Ignatios College, Nyköpingsvägen 22, Södertälje – Stockholm.
It was supported by Riksbankens Jubileumsfond.
If you intend to attend the conference, please register via this email: davor.dzalto@ehs.se, since the number of available places is limited.
The program of the conference:
Thursday, February 17
17.30 Conference opening
Davor Džalto
Michael Hjälm (dean)
Friday, February 18
Panel 1
Moderator: Davor Džalto
9.30-10.00 The Sacred Laughter: The Culture of Humor in Biblical and Rabbinic Literature
Eliezer Papo
10.00-10.30 Parody and Prayer – Medieval Jewish Communities and Their Ways of Humoristic Relief
Peter Sh. Lehnardt
10.30-11.00 Discussion
Panel 2
Moderator: Frederick Lauritzen
11.30-12.00 Humor between Theory and Practice: A Critical Reading of Humor in the Islamic Scripture and the Prophet's Life
Doaa Baumi
12.00-12.30 God's Laughter and Man's Anger: Reframing joke and humor in Islamic Theology and Law
Idris Nassery
12.30-13.00 Discussion


Panel 3
Moderator: Michael Hjälm
14.30-15.00 Did Christ Laugh? A Normative Discourse on Laughter in a Medieval Monastic Context
Hans Geybels
15.00-15.30 Buffalmacco and la Beffa: Humorous Expressions of Religion and Religious Expressions of Humor in the Italian Renaissance
Ola Sigurdson
15.30-16.00 Discussion


Saturday, February 19
Panel 4
Moderator: Idris Nassery
10.00-10.30 Laughing Saints and Righteous Patients: Humor and Laughter in Byzantine Collections of Miracle Stories
Stavroula Constantinou
10.30-11.00 The Byzantine Theology of Laughter
Frederick Lauritzen
11.00-11.30 Religious Satire: Freedom and Respect in Interreligious Dialogue
Ambrogio Bongiovanni
11.30-12.00 Discussion


Panel 5
Moderator: Stavroula Constantinou
14.30-15.00 Humor in the Gospel of John Vladan Tatalović
15.00-15.30 It's a sin? Laughter and Humour vs. Religion in Byzantium
Przemyslaw Marciniak
15.30-16.00 Apophatic and Emancipatory Dimensions of Humor: The Case of Orthodox Christianity
Davor Džalto
16.00-16.30 Discussion
16.30 Concluding remarks